HOW DID LIFE COME INTO EXISTENCE:-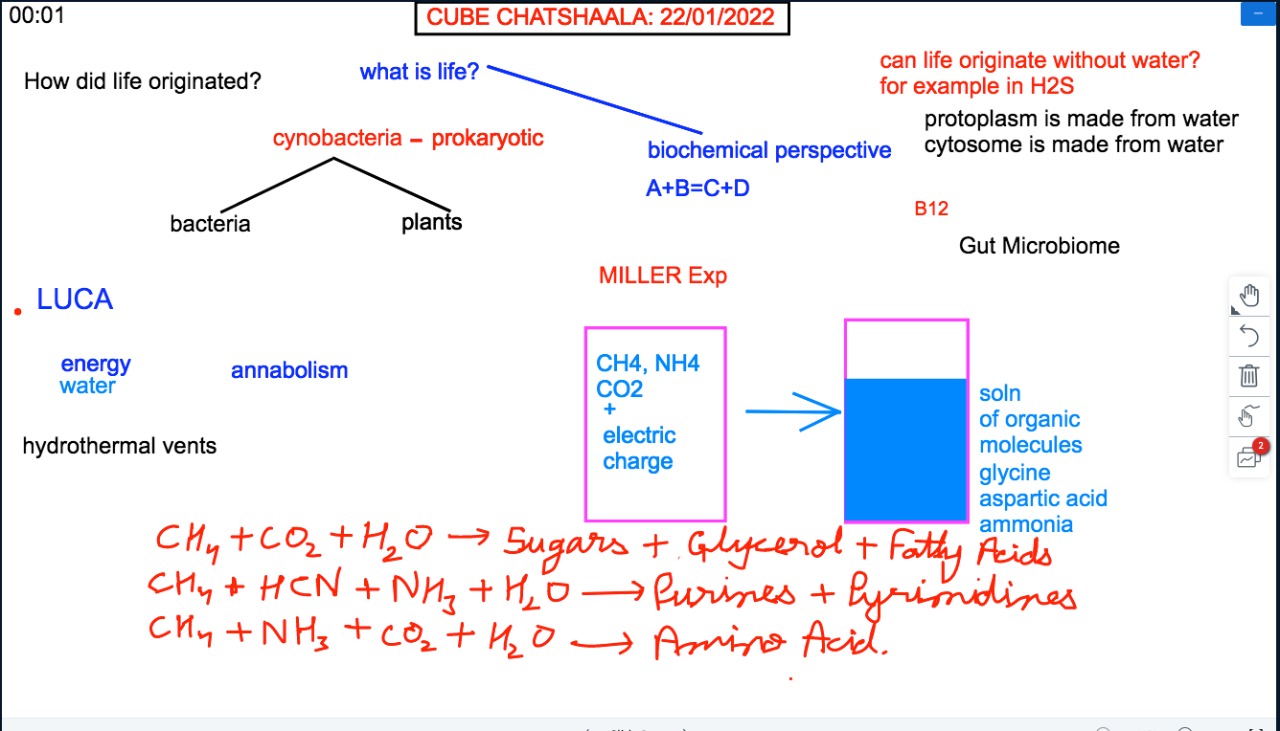 We Started the discussion with the question of how life originated on the earth?
When we are studying Molecular basis of life this question is very common and intersting!


Along with Chitralekha ma'am from DSC college, Delhi. Soumyadip and Batul ma'am from Kolkata, Rati from AND college, Delhi(currently in Andaman and Nicobar), and Anindita from K.J.Somaiya college discussed about the requirements for like to form?

So chemicals, a liquid solvent, and energy or heat came into the picture. These kinds of conditions are only there in Ocean near hydrothermal vents. This statement is also supported by the fact that at some 4 billion years ago the atmosphere was not hospitable and Sun's UV radiation would not allow life to emerge and be diverse as we see it today.


We also discussed Miller's experiment. The Miller–Urey experiment (or Miller experiment) was a chemical experiment that simulated the conditions thought at the time (1952) to be present on the early Earth and tested the chemical origin of life under those conditions. After Miller's death in 2007, scientists examining sealed vials preserved from the original experiments were able to show that there were actually well over 20 different amino acids produced in Miller's original experiments.


From this we arrived at a question about can life originate without water solvent?
I think we need to discuss more on this part as in discussion point that we discussed was protoplasm and cytosomes are made from water or without water how can life originate?

Anindita from k.j.somaiya College, Mumbai suggested that maybe the primary life forms were cyanobacteria. And as we were discussing *we came to know that cynobacteria came a bit later like that but it was between plants and bacteria


Through this we discussed other theories of the origin of life on earth that life could have been come from some other part of space through asteroids or something?


Scientists are studying microbes in space by taking samples from the earth.


We discussed are there any place on earth where microbes or any life form is not present? Are there any totally sterile zones? We also discussed a little about Magnetotactic bacteria (or MTB) are a polyphyletic group of bacteria that orient themselves along the magnetic field lines of Earth's magnetic field.