CUBE ROOM LINK

webinar.hbcse.tifr.res.in

Please click on the CUBE (BLUE) to join the CUBE chatShaala
Timing:5.30 pm to 9.30 pm
KINDLY ADD NAME OF YOUR PLACE/AFFILIATION ALONG WITH THE FULL NAME WHILE JOINING THE CUBE
CHATSHAALA for eg. (KiranYadav-HBCSE, Mumbai)
Summary of discussion
Whiteboard screenshots of today's CUBE chatShaala ( 20th October 2021 ) discussion on FRUIT FLY

Smiti from Bandra MUMBAI joined the session and we had the discussion on how does Smiti pursuing the culture of fruit flies in her home lab ( CUBE HOME LAB BANDRA MUMBAI )

GOOF UP: Initially Smiti prepared the medium called BPSRV and the bottle with the medium was used in order to trap fruit flies from surrounding. Leading questions : Do we really need to keep the medium bottle to trap fruit flies?.

Smiti got 80 fruit flies with in 1.5 hours post keeping the bottle

Initial objective was to study the life cycle of fruit flies. But life cycle of fruit fly can be studied with the fruits (Banana, tomato etc) in the bottle, do we need medium for that?.

But smiti got the approx 70 Pupae in the medium bottle with in 4 days but medium got liquefy by the 4th day and then smiti improvised the medium and tried to get solidified medium

40 Pupae were transferred from old bottle to new improvised medium bottle , YES PUPAE WERE TRANSFERRED, do we expect them to hatch? Since we are detaching them from the surface.

Smiti got 40 emerged flies in the new bottle

Discussion ended with very provoking question that can we use fruit fly as a Model to understand diabetes?. Since now smiti is making a medium which is rich in carbohydrates do we expect fruit flies to get diabetic?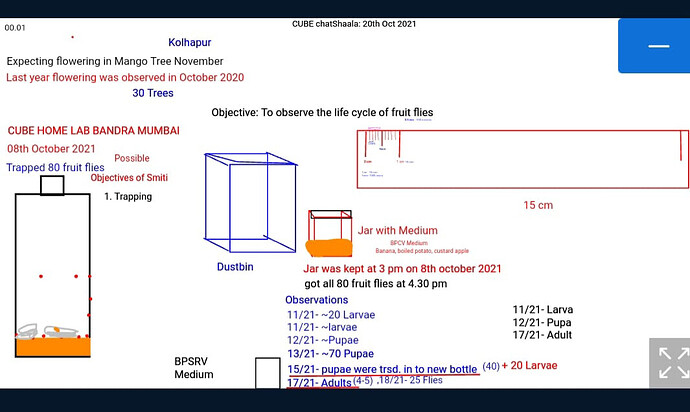 here is another interesting thing happened during the discussion, when we are discussing how do we take out the gravid fly from the bottle in order to make single lines.

Smiti was trying to move the bottle horizontally, upside down to observe the behavior of flies then suddenly medium got fall off
Any comments
Smiti please share the video of medium falling off when you just kept the bottle upside down.