CUBE ROOM LINK
CUBE
Please click on the CUBE (BLUE) to join the CUBE chatShaala
Timing:5.30 pm to 9.30 pm
KINDLY ADD NAME OF YOUR PLACE/AFFILIATION ALONG WITH THE FULL NAME WHILE JOINING THE CUBE
CHATSHAALA for eg. (KiranYadav-HBCSE, Mumbai)
Summary of discussion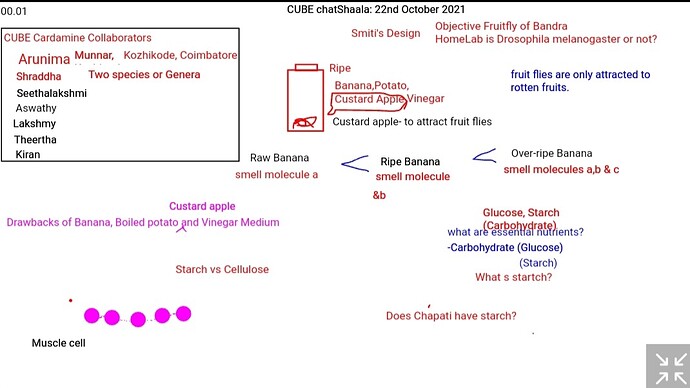 Whiteboard screenshots of CUBE CHATSHAALA discussion
(22nd October 2021)
Discussion was in continuation on how to develop a medium to Culture fruit flies in home labs? Where Smiti from BANDRA MUMBAI have started making new medium by adding Banana, Sugar, Rava, Vinegar and Water (BSRV) and this gave us a wonderful chance to understand Nutrition better.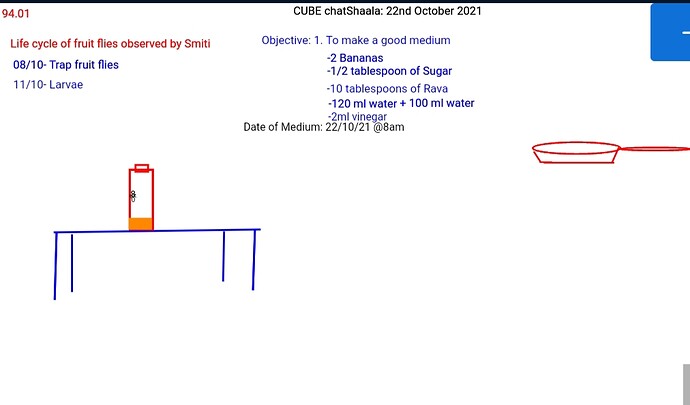 What are the ingredients used in the making of BSRV medium by the Smiti and how was the medium prepared?
What kind of consistency smiti got after cooking the medium?
Do we expect this medium to give us good positive results of culturing fruit flies.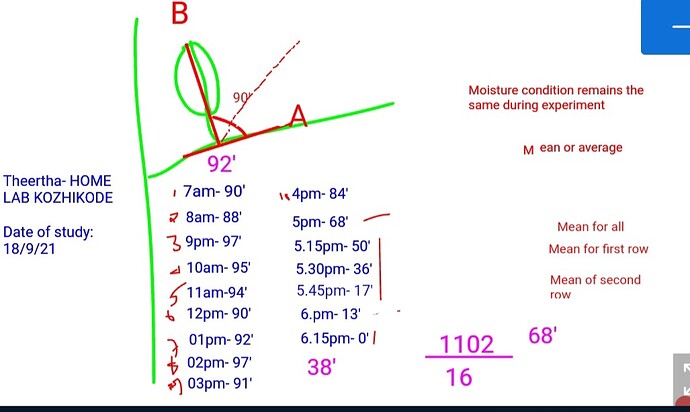 Phyllanthus provides context to understand Biostatistics
Theertha, Lakshmy, Sunita Ma'am and other Phyllanthus collaborators have been collecting data on Phyllanthus leaf angle titration and wonderful data has been collected so far.
But how do we analyse the data? How do we apply biostatistics here?
In the current data that's collected by Theertha reflects that the angle of Phyllanthus leaf is flactuating from 7am to 3pm but the data/angle from 4pm is decreasing/reducing to 6.15 pm
How do we analyse it? Calculating Mean and standard deviations would help us in understanding this data?
Summary of discussion quoted by @Lakshmy
Yesterday we have interesting discussion on phyllanthus
Phyllanthus give a context to understand biostatistics.



Theertha from cube Providence College kozhikode collected the leaf opening and closing of phyllanthus at different time intervals. ( Leaf angle titration)


She could observe that from 7- 3pm the the angle is between 90-97°
After that 4pm- 6pm the angle constantly reducing and finally at 6:15 the angle become 0°
We ploted the data of one day and try to analyse data with help of biostatistics.
Even though we study biostatistics in our curriculum but we dont know much where exactly to apply it like mean, median, mode,standard deviation and all…
Here we got a great opportunity to understand biostatistics from the basics!!!