CUBE ROOM LINK

webinar.hbcse.tifr.res.in

You have been invited to join CUBE using BigBlueButton. To join, click the link above and enter your name.
CUBE
Please click on the CUBE (BLUE) to join the CUBE chatShaala
Timing:5.30 pm to 9.30 pm
KINDLY ADD NAME OF YOUR PLACE/AFFILIATION ALONG WITH THE FULL NAME WHILE JOINING THE CUBE
CHATSHAALA for eg. (KiranYadav-HBCSE, Mumbai)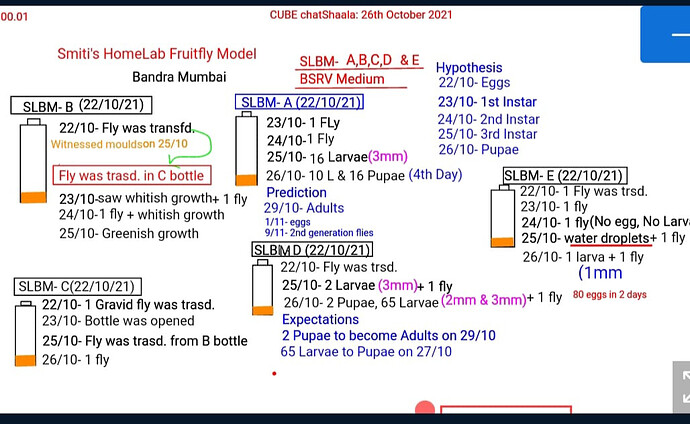 Whiteboard screenshots of today's ( 25th October 2021 ) CUBE chatShaala discussion
Congratulations to Smiti from CUBE Home lab Bandra Mumbai in successfully establishing single line cultures of fruit flies in home made culture medium
BSRV Medium : A medium developed collaboratively with the initiative of smiti to culture fruit flies, so today in the session we got the update on fruit fly single line cultures name SLBM- A,B,C,D & E ( SINGLE LINE BANDRA MUMBAI)
Total 5 single line cultures have been made and out of 5, two have been proven to be good as of now, as we got 60-65 LARVAE IN 4 DAYS FROM ONE SINGLE MOTHER.
Smiti have short term objectives like developing home made medium, making single line cultures and now maintaining single lines and with the glittering objective of identifying species of fruit fly with the collaborative approach of finding diversity of genus and species of fruit fly across the India with other CUBE MEMBERS
We are also looking forward to develop Long term research questions. I would like to request existing Fruit fly collaborators like @Aswathy Suresh CUBE @Isha Pawle @Raj Yashwantrao Patil CUBE @Yash Sheregare CUBE @Man Masih Beck RANCHI CUBE @Sidhy Kerala Drosophila and others to post latest photo or videos and give update on their single line cultures.