CUBE ROOM LINK

webinar.hbcse.tifr.res.in

You have been invited to join CUBE using BigBlueButton. To join, click the link above and enter your name.
CUBE
Please click on the CUBE (BLUE) to join the CUBE chatShaala
Timing:5.30 pm to 9.30 pm
KINDLY ADD NAME OF YOUR PLACE/AFFILIATION ALONG WITH THE FULL NAME WHILE JOINING THE CUBE
CHATSHAALA
Example: KiranYadav-HBCSE, Mumbai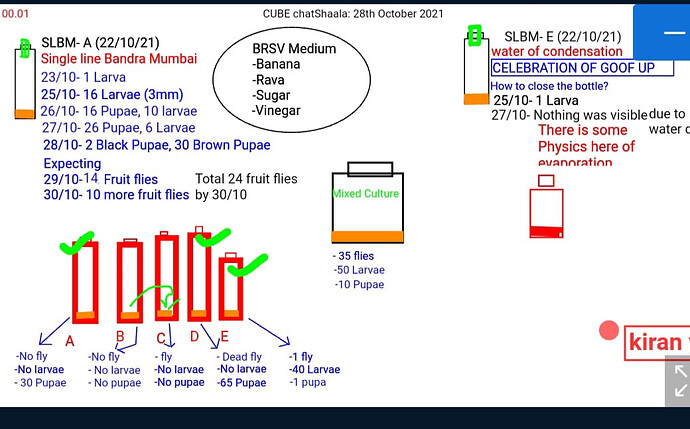 Whiteboard screenshot of yesterday's CUBE chatShaala
CELEBRATION OF GOOF UP
Smiti Gupta from Bandra Mumbai has started single line cultures of fruit flies with the objective of finding the species of native fruit flies, 5 single lines have been prepared by Smiti in her CUBE HOME LAB BANDRA MUMBAI and among five there's a bottle named SLBM-E which had water of condensation because the bottle was tightly closed with it's cap after pouring the hot medium in it.
Smiti did not have any expectations in the same bottle SLBM- E as she couldn't able to see any larvae and pupae in the bottle due to condensation of water, then smiti changed the bottle cap to cotton plug and due to the passage of air water evaporates from bottle and we could see 40 larvae, 1 pupa and 1 fly in the bottle
How to close the medium bottle? What's the physics behind it? How condensation of water took place when the bottles was closed with it's cap? How water evaporates when the bottles was closed with cotton plug?