CUBE ROOM LINK

webinar.hbcse.tifr.res.in

You have been invited to join CUBE using BigBlueButton. To join, click the link above and enter your name.
CUBE
Please click on the CUBE (BLUE) to join the CUBE chatShaala
Timing:5.30 pm to 9.30 pm
KINDLY ADD NAME OF YOUR PLACE/AFFILIATION ALONG WITH THE FULL NAME WHILE JOINING THE CUBE
CHATSHAALA
Example: KiranYadav-HBCSE, Mumbai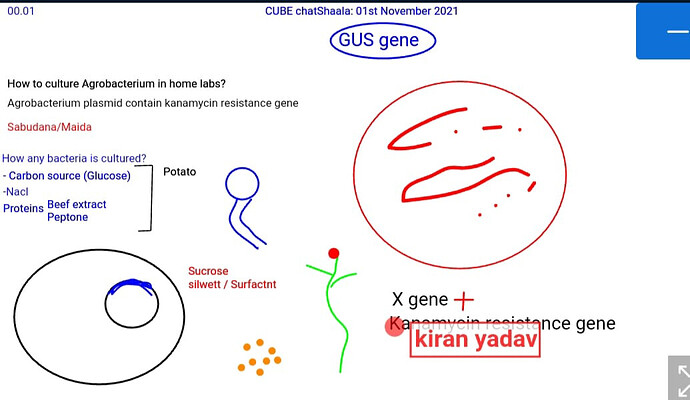 Where we (CUBE Cardamine collaborators) got stuck in achieving the objective of the Floral dip method in Cardamine weed.
Whiteboard screenshot of CUBE chatShaala discussion
A RAY OF HOPE (BREAKING NEWS)
Agrobacterium bacteria can be cultured in home labs on potato slices, in the last discussion we formulated how to culture Agrobacterium bacteria which is essential for the floral dip method.
Following are the questions which were inquired during the discussion
what's Cardamine? How do we identify it?
-what is the floral dip method? How do we do the floral dip procedure in Cardamine?
-what is Agrobacterium? How does Agrobacterium help in transformation?.
-where do we get the Agrobacterium strain?
-How do we culture Agrobacterium in home labs? Can potatoes be used to culture Agrobacterium?
-sucrose and surfactants are also crucial to the success of the floral dip method?
-how do sucrose and surfactant help in transformation?
-what is the selection marker? What's the Kanamycin resistance gene?
what is the role of the Kanamycin resistance gene in the floral dip method?
@Shraddha Sonavane CUBE shared the story of how she found eggs and caterpillars of the psyche butterfly on the card amine plants.
How does the psyche butterfly recognize the host plant to lay eggs?
Since Psyche butterfly has a wide host range, a plant which belongs to order Brassicales could be the host of the psyche butter.