CUBE ROOM LINK

webinar.hbcse.tifr.res.in

You have been invited to join CUBE using BigBlueButton. To join, click the link above and enter your name.
CUBE
Please click on the CUBE (BLUE) to join the CUBE chatShaala
Timing:5.30 pm to 9.30 pm
KINDLY ADD NAME OF YOUR PLACE/AFFILIATION ALONG WITH THE FULL NAME WHILE JOINING THE CUBE
CHATSHAALA
Example: KiranYadav-HBCSE, Mumbai
Summary of the discussion quoted by @2020ugchsncnseethala Seethalakshmy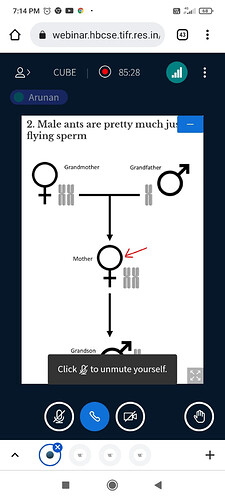 Summary of 595th day of Chatshaala
We started the discussion on Ant model system.
Formicarium - It is used to culture the ant for the purpose of study the ants colony
*seethalakshmi have particular type of ants in her culture
Local name : panchasaaara urumbu
( panchasaara- sugar, Urumbu - Ant )
Ikkili urumbu - (ikkili -Tickling, Urumbu - Ant / cheentee )
Common name : black crazy ant
Biological name : paratrechina longicornis
The black crazy ants, are called that because of their random, erratic and quick movements
A female ant's fate to become a worker or queen is mainly determined by diet, not genetics. Any female ant larva can become the queen—those that do receive diets richer in protein. The other larvae receive less protein, which causes them to develop as workers.Six amazing facts you need to know about ants

The main difference between fertilized egg and unfertilized egg is that fertilized egg is an egg that is fused with a sperm of the same species whereas unfertilized egg is an egg that has not fused with the sperm
REFERENCE-https://pediaa.com/difference-between-fertilized-and-unfertilized-eggs/
How do you know if an ant is a queen?
Image result for how is queen ant diff
The easiest way to identify a queen ant is to look for an ant with a larger thorax, or middle section, than the rest of the ants. The queen ant will have a muscular, more complicated thorax, in part because the queen ant is born with wings, which she uses to leave the colony to mate.
*Ants, bees, Termites… How they different from other organisms???
How colony is formed???
And we discussed several other things
Others please give your inputs @Maswood CUBE, @Aastha Ahuja Cube, @Abhigyan Ray, @Abhijeet Singh, @Batul Pipewala Kolkata ma'am, @vyom, @Arunan HBSCE sir and other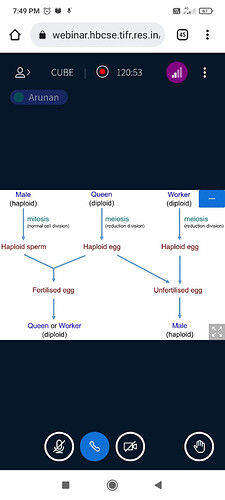 Some references from chatbox :-
*Six amazing facts you need to know about ants
*Full Duplex: Intelligence in Societies: Mainly in Insects
*The pupal life at 20°C is about 6.3 days, whereas at 25°C it is about 4.2 days. Thus, at 25° C the life cycle may be completed in about 10 days, but at 2~C about 15 days are required (Demeree and Kaufmann, 1965).10-Sep-1981https://scholarlycommons.pacific.edu/cgi/viewcontent.cgi?article=3048&context=uop_etds#:~:text=The%20pupal%20life%20at%2020,Demeree%20and%20Kaufmann%2C%201965).
*Six amazing facts you need to know about ants