CUBE ROOM LINK

webinar.hbcse.tifr.res.in

You have been invited to join CUBE using BigBlueButton. To join, click the link above and enter your name.
CUBE
Please click on the CUBE (BLUE) to join the CUBE chatShaala
Timing:5.30 pm to 9.30 pm
KINDLY ADD NAME OF YOUR PLACE/AFFILIATION ALONG WITH THE FULL NAME WHILE JOINING THE CUBE CHATSHAALA
Example: KiranYadav-HBCSE, Mumbai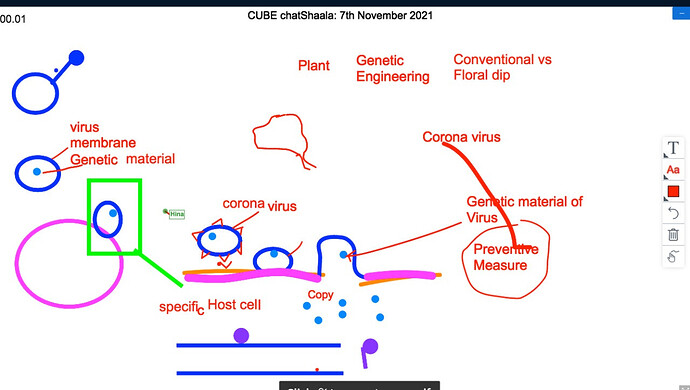 It was an interesting discussion today where tried to connect the concept of use of alcohol and soap in genetic engineering in cardamine and the role a soap can have on a plant cell or any cell like coronavirus cell
We tried to understand how coronavirus genetic material ( blue circle in diagram )enters the human cell( shown as pink circle in diagram ). And we thought that the blue cell - virus cell's membrane would be fusing with that of the membrane of human cell and becoming a single membrane and thus the gentic material which is shown as light blue color dot in bigger blue circle is getting entry inside the human cell once the viral cell membrane fuses with that of human cell membrane . Thus once genetic material of virus is entering into human cell now it can cause infection and affect the human cell
Here is the catch , now if we stop this fusion of the coronavirus membrane with that of the human cell membrane then we can stop the infection. But how​:thinking: can we stop that ? Can soap help us ?


Yes soap can disrupt the lipid membrane. But how ? Soap has both hydrophilic part and hydrophobic part as that of lipids of viral membrane and thus soap's hydrophilic part interacts with that of hydrophilic part of lipid and similarly hydrophobic part of soap and lipid interacts there by soap disrupts the interaction between lipid in viral membrane and can thus lead to break down of virus cell
Thus understand the coronavirus structure and the lipid membrane gave us context to understand the chemistry of action of soaps also about the membranes of virus and human cell
We also compared the affect of soap on oil and how soap removes oil from our dirty clothes since oil is also hydrophobic molecule and that helped us understand the affect of soap on the lipid molecules of viral membrane
@Abhijeet Singh @Saida Sayyed @Abhigyan Ray @Navaneel CUBE @Janhvi Deshmukh kindly add points that we discussed today