In the last session we had the discussion on Cardamine, Cardamine provides a great context to understand Genetic Engineering, Molecular Biology and Cytology. There were some very crucial questions were asked during the discussion on FLORAL DIP METHOD of gene transfer in Plants.
CUBE ROOM LINK

webinar.hbcse.tifr.res.in

You have been invited to join CUBE using BigBlueButton. To join, click the link above and enter your name.
CUBE
Please click on the CUBE (BLUE) to join the CUBE chatShaala
Timing:5.30 pm to 9.30 pm
Kindly add name of your place/aafiliation along with the full name while joining the CUBE chatShaala "Example- Kiran Yadav- HBCSE Mumbai"
**Below is the detail summary of the discussion quoted by @Shraddha276 nd @Abhi0703 **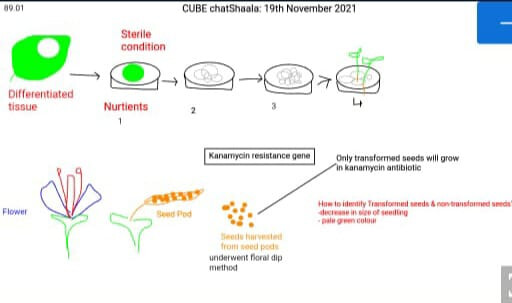 We discussed about Cardamine model organism with respect to genetic engineering in Cardamine plant.
we discussed -
floral dip method done by Ranchi CUBist before lockdown & remaining part of same done by Nazish from Byculla, Mumbai in between lockdown.
how to identify transformed seedlings from non transformed seedlings.
How Kanamycin antibiotics affect plants cell?
Which Types of Ribosomes present in bacteria and in plants,human cells?
Please add your points

@Abhijeet

Singh @Deepika Iyyangar Cube

@Aditiya

Joshi CUBE

@Ashritha

patta CUBE
Adding on to

@Shraddha

Sonavane CUBE's points:
*Discussion about what percentage of transformed seeds would have resulted through floral dip method.
~The percentage of transformed seeds is dependent on the accuracy of the method used for the incorporation of the gene of interest.
*Kanamycin- Cell Growth Retarder or Killer??
Kanamycin can lead to plant growth retardation when used in a higher concentration(-90mg/ml as observed in Nazish's Model system.
*Floral Dip Method ~A step ahead towards gene transfer.
Others do add your learnings…


@Aditiya

Joshi CUBE

@Ashritha

patta CUBE

@Priti

Kanade…and Do share your Objective

@Abhijeet

Singh

The discussion started with:-
The cardamine seed germination in Homelab Navi Mumbai
Had sown more than 50+ seeds on 3rd November. Observed germination from 12th day i.e on 14th Nov 21.
Why is Seed germination studies important?
Seed germination is important because when we will perform the floral dip on cardamine's floral bud we expect that the gene will be incorporated in when the seeds will emerge they will have the gene that we wanted to incorporate and when germination of those seeds will take place we can compare if there is any difference in germination rate.

What is Floral dip? And why floral dip?
Floral dip is a technique through which we can incorporate the gene of interest by dipping the floral bud in a solution containing gene of interest.
Genetic Engineering is conventionally done by Plant Tissue culture and other methods which required so much of time and hardwork​:disappointed_relieved:like making the nutrient media for the tissue , maintaining nutrient content and providing Growth regulators and various laboratory conditions like sterile enviornment etc
On the other hand
Floral dip can help in saving all this hardwork and no lab conditions are required just dip the floral bud in the solution containing gene of interest(kanamycin resistance gene in this case)
Why kanamycin?
Kanamycin is an antibiotic and it triggers the growth rate and chlorophyll production in in Cardamine as found out by Nazish in her Homelab experiment in which she used normal cardamine seeds and germinated those in different concentration of kanamycin antibiotic.
So if we are able to incorporate the kanamycin resistance gene through floral dip method then the seed which will be obtained after floral dip will have both transformed seeds and not transformed seeds.
If these seeds are germinated In kanamycin antibiotic medium the transformed seeds will have a normal growth as they have the resistance because of kanamycin resistance gene and the seeds which are not transformed will show decreased growth rate and yellowish colour and may die eventually Because of not being able to produce enough evergy!
What does kanamycin actually does to the plant cell?
kanamycin antibiotic is used to kill the bacterial cell as it affects the ribosomes present in prokaryotic cell.
But as the plant cell of Cardamine is eukaryotic how does kanamycin affects it?
Kanamycin affects the prokaryotic ribosomes and the ribosomes present in chloroplast and mitochondria of Cardamine plant cell are of the prokaryotic origin as the 'Endosymbiosis Thoery of evolution' suggests
-So kanamycin is able to affect the chloroplast and mitochondrial ribosomes and the chlorophyll and Energy production.

Effect on germination - 80- 85% cardamine seeds were germinated within 10 days from date of setup.
Effect on growth -
1)etiolation ( Bleaching of seedlings) of seedlings was increased as concentration increases. It is observed that seedlings were germinating as well as etiolating as concentration increases as compared to control where there was no color change of seedlings.
decrease in length of root and hypocotyl is observed as concentration increases compared to control where lenght of root and hypocotyl is constant