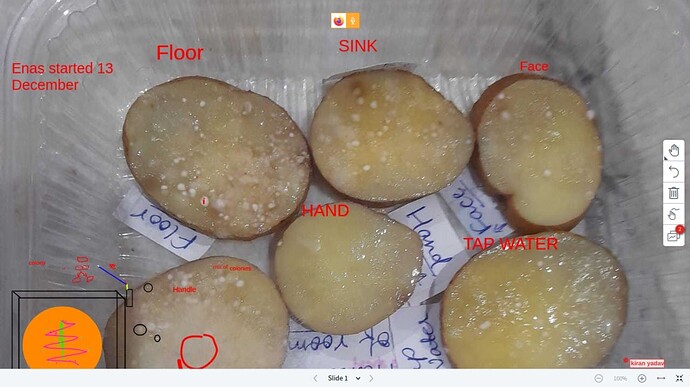 HOW TO DO CONVENTIONAL MICROBIOLOGY IN HOME LABS?
Potato slices can be best used to culture microbes in a home lab
Whiteboard screenshots of yesteday's session where we discussed amazing achievements that Enas has got on her objective of culturing micro-organisms in HOME LAB.
Where we got the even surfaced boiled potato slices which look very analogous to agar plate and so many Microbial colonies on potato slices.
Concerns
what do we mean by a colony?
what is sub culturing?
what is the simplest and easy way of streaking to get isolated colonies?

webinar.hbcse.tifr.res.in

You have been invited to join CUBE using BigBlueButton. To join, click the link above and enter your name.
CUBE
Please click on the CUBE (BLUE) to join the CUBE chatShaala
Timing:5.30 pm to 9.30 pm
Kindly add name of your place/aafiliation along with the full name while joining the CUBE chatShaala "Example- Kiran Yadav- HBCSE Mumbai"