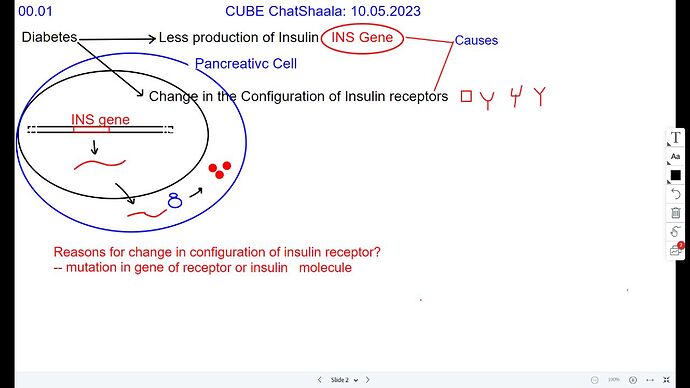 SMITI SAY'S

Okay so as I've completed my 2nd year in BSc and in final year we have to submit a thesis, we discussed what topic i can work on and my interest is in Diabetes


So Diabetes is basically a metabolic disease which is cause due to lack of sufficient insulin or when configuration of receptor changes (acc. to me these are 2 possibilities) as reception is a protein and like enzyme and substrate bind to perform a process in metabolism to form product here insulin needs to bind with its receptor so that cell will get a signal to open glucose channel so that cells can take glucose to perform further process like glycolysis and kreb cycle to get energy


Here we also discussed about how insulin is produced from INS gene in pancreatic cell and then transferred to blood


Now in both the scenarios, either when insulin is less or it can't bind with it's receptor, glucose will not get transferred into the cell and it will stay in blood causing problems as it increases blood sugar level


Here the question is are there other possibilities through which diabetes is caused? And what causes diabetes type 1 and type 2?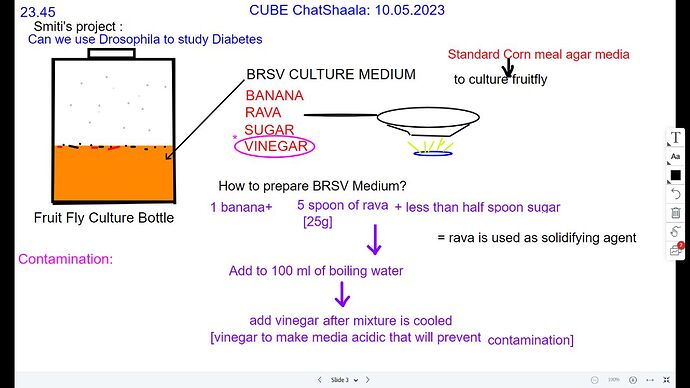 Then
@kiranayadav4894
@gmail com SKYPE ma'am asked if we can study diabetes in model organism i was working it that is drosophila and it reminded me of an incident that happened that time

On 8th Oct 2021 i trapped and made my 1st culture successfully but media had some issue we when i joined cube we discussed on how to make media and developed BRSV (Banana Sugar Rava Vinegar) media which I used in my home lab
Here we also compared homelab media with standard corn meal agar media used in labs

Like how we make media using ingredients available at home by discussing what we use in standard media and why is it important and then replace them with what we have and would work in similar way like instead of agar we use rava here to solidify media and instead of propionic acid and orthophosphoric acid we use vinegar which is an acetic acid to prevent contamination i.e bacterial and fungal growth here

I used this media to culture my flies for about 8 months and when i trapped flies i was looking for drosophila melanogaster - The 6 time noble prize winning organism!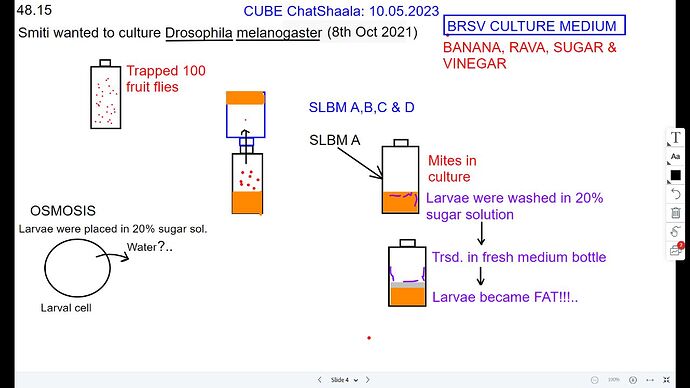 For identification of flies and to see if i have drosophila melanogaster in my culture, i made single line cultures but lost most of them due to mite infestation… Now here single line means when we isolated 1 gravid (pregnant) female fruit fly and culture her in fresh new media bottle and all her progeny are from same species

So when mites started destroying my culture by killing flies, i called Saida di one of my senior to ask what i can do to save my precious single lines and she told me that when similar thing happened with Aswathy di she used to transfer flies early and later on used larve from old bottles to save her culture

So i can use larva for saving my culture by adding 20% of sucrose solutions in the bottle and when larve come up i can isolate them

But that time i didn't understand it much and i thought if we wash it sucrose solution then mites will go away so i had a bottle that didn't had flies and larve were there so i took them out with bursh and washed them with sucrose solution and didn't washed it again with water cause i didn't knew that i should and after taking them out from solution I kept them on cotton and placed that cotton on new media

After 2 days i noticed that larve were becoming fatter or obes and i reported that in C2C and while discussing Saida di told this could be due to diabetes cause i dipped them in 20% sucrose solution i.e 20 gm table sugar in 100ml water

These larve took too long to become pupe around 6-7 days and were in form of pupe for like 2 weeks after 2 weeks the fly that i got looked very different then my fly and i thought this was some kind of mutation or diabetic flies might look like this but then when i posted a video
@Batul
CUBE ma'am told it's a different fly from some phoridae family

So if my flies took around a week to complete it's whole life cycle these fly took a month to complete it and when i came to know this i thought we can't study diabetes in fruit fly and we were wrong but yesterday we came to know that IT IS POSSIBLE TO STUDY DIABETES IN DROSOPHILA!! as they have 7 insulin like peptides and different insulin pathways and some are similar to us I guess and i got to know this from references shared in chatshaala… Given below

REFERENCES
The Drosophila insulin-like peptides (ILPs) also have nonredundant functions [18–20]. The ILP2 peptide has the highest homology to the vertebrate insulin gene and is synthesized together with ILP1, ILP3, and ILP5 in the IPCs of the brain, and their synthesis depends on ILP3. ILP3 expression also activates the insulin pathway in the fat body [21].
Drosophila as a Model for Diabetes and Diseases of Insulin Resistance
P. Graham and L. Pick1
Drosophila melanogaster as a Model for Diabetes Type 2 Progression https://www.ncbi.nlm.nih.gov/pmc/articles/PMC5941822/ Drosophila melanogaster has been used as a very versatile and potent model in the past few years for studies in metabolism and metabolic disorders, including diabetes types 1 and 2. Drosophila insulin signaling, despite having seven insulin-like peptides with partially redundant functions, is very similar to the human insulin pathway and has served to study many different aspects of diabetes and the diabetic state
The pancreas produces an exocrine secretion (pancreatic juice from the acinar cells) which then enters the duodenum through the main and accessory pancreatic ducts and endocrine secretions (glucagon and insulin from the pancreatic islets of Langerhans) that enter the blood Anatomy, Abdomen and Pelvis, Pancreas - StatPearls - NCBI Bookshelf Anatomy, Abdomen and Pelvis, Pancrea