The flies larvae harvesting from the culture medium bottles of fruit flies was discussed. @Smiti talked about isolating larvae from fly bottles using Sucrose solution. She explained how flies need to be transferred from one bottle to another so that we can get staged larvae as flies will get only sometime to lay eggs and the larvae born will be of a similar age. These larvae can be used for several studies. @magpie talked about fruit flies and their larvae can also be used to study Diabetes.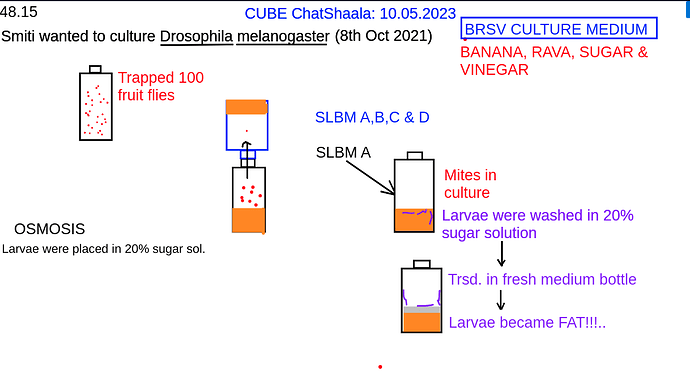 We found a paper that says Drosophila mutants of insulin can be used to study Diabetes. Insulin is a hormone required for the absorption of sugar in blood. Diabetes is an illness due to a deficiency of insulin. If insulin signaling is hampered in mutants of Drosophila it can result in decreased levels of insulin and exhibit Diabetes type symptoms. Hence mutants of Drosophila can be used to study Diabetes.
How to get a Drosophila insulin mutant from nature is the question which came out of discussion. It was very interesting to find that Drosophila also has insulin signalling pathway like humans.