In our conventional setting, science is limited to laboratories and classrooms. That too fails to convey the fundamental notion of science. Nobody in India or very rarely some people Gossip about the happenings in science with their friends, family, or any other individual. That's why CUBE(Collaboratively Understanding Biology Education) which works out of the conventional setting aims to create such Addas or Nukkads where people not only gossip about science but celebrate it by imbibing the culture and passing it on to others…
CUBE has developed this concept of HUBS & NODES which aims to provide STEM enthusiasts and every common people a platform or space to carry out science activities. COVID-19 lockdown gave CUBE an opportunity or we can say gave a thrust towards this goal. CUBE has many "Homelabs" across India. But the very important step after this is networking it with some common points. Those points can be called CUBE HUBS & NODES.
K.J. Somaiya College of Science and Commerce, Somaiya Vidyavihar, Mumbai had dedicated a Lab in their college for CUBE activities and now the time has come to develop it as a NODAL Centre.
K.J.Somaiya College Of Science and Commerce is in Mumbai Suburban Region very close of Vidyavihar Railway station of Central Line of Mumbai Local Rail Network.

Chatshaala in Somaiya CUBE LAB about Anindita's and Sakshi's Moina and Hydra Culture​:smiley:

. Why did sakshi's hydra culture die? CUBE Somaiya College Lab, 9th June 2023, Video AbhijeetSingh.
This is the CUBE LAB of Somaiya College and the CUBists from K.J.Somaiya College and students from other colleges in Mumbai like NES Ratnam College, Elphinstone College, and Kelkar College met in Somaiya College and Discussed their work.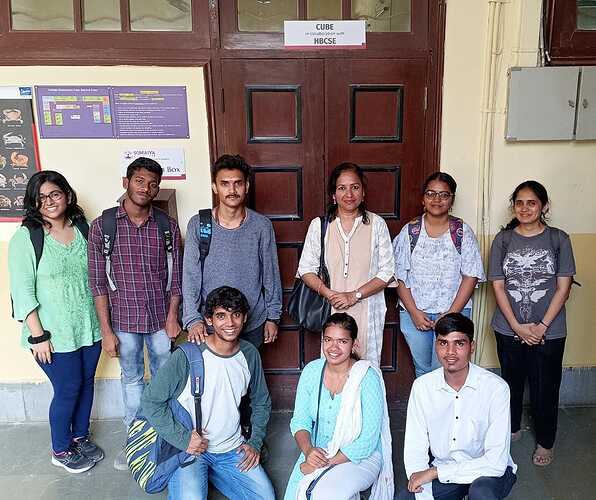 From the left there is Varsha Singh and Satish Naidu from Somaiya College then there is Anup Kumar from NES Ratnam College.
Sitting beside Anup there is Ayush Shetty from Somaiya College.
And Sitting Beside Ayush There is Gaurangi Dhuri. Gaurangi was my senior in school(Adarsha Vidyalaya). I used to visit CUBE, HBCSE, TIFR, and Mumbai along with her and other friends.
Adjacent to Gaurangi is Dhanraj Tribhuvan from Elphinstone College, Mumbai.
Standing in the middle of the door is Dr. Meena Patankar ma'am from the Dept of Botany, K.J. Somaiya College. Standing next to Meena Ma'am towards the right side is Smiti Gupta from Elphinstone College, Mumbai. Next to smiti is Sahamatha. Sahamatha is Kishore Bharati Fellow and came to help us in our CUBE activities.
With the help of Dr. Meena Patankar Ma'am and Ashutosh Mule CUBists are able to get access to the lab. We are constantly trying to Develop this as a HUB for all. This center will inspire many more centres to start across India.

Lets play the STEM games together.