This project is for driving multiple Haptic Disc Mili Motors. The motors are mounted on a felexibile base or fabric and strapped to ones body. The motors are driven through inputs from some data source. Various cognitive and perception experiments can be performed.
The driver board schematic:Vest-V3-sch.pdf (112.8 KB)
Driver board PCBimage: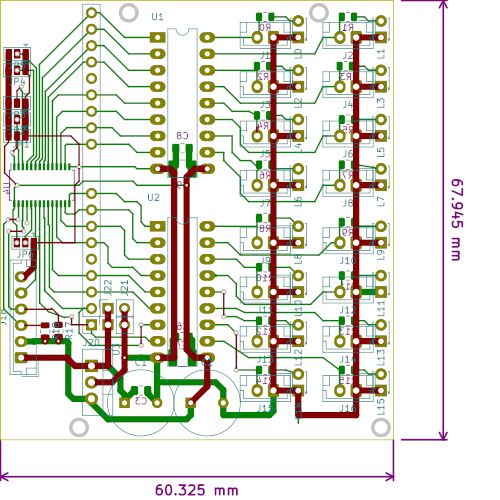 Kicad files: Sorry. Discobot prevents uploading a zip file.
The board has a PCA9685 I2C 16 channel PWM driver, 2 ULN2803 driver ics, a 5v regulator and 16 2 pin connectors.
I2C channel is controlled by the pc using a CH341 module.
I had to build a module for the CH341 to get the I2C working using this code: GitHub - gschorcht/i2c-ch341-usb: A Linux kernel driver for ch341 emulating the I2C bus
I am now waiting for the PCB from the fab.