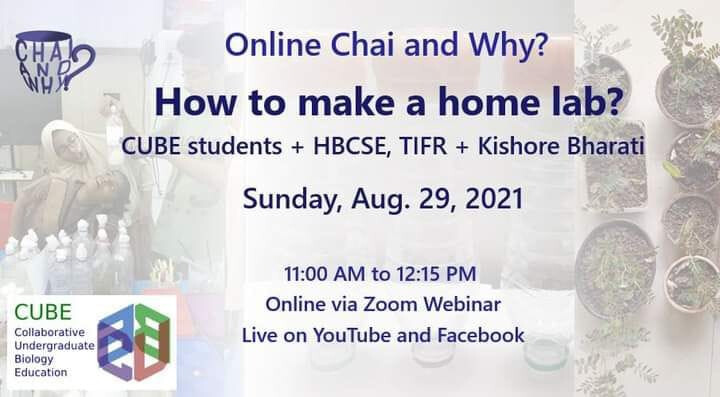 CHAI AND WHY? SESSION
We are happy to announce that we have got the chance to be the part of Chai and Why? (organized by TIFR) to share and narrate some of CUBE inventions that we came up collaboratively during the Pandemic in order to sustain research even at home during the pandemic.
Chai & Why? -TIFR's unique outreach initiative since 2009 has been the "Chai and Why?" series, a forum to enable informal discussions of interesting scientific issues outside a traditional academic setting in a Science Café format
We would like to invite everyone to be the part of this session. The session would be conducted on zoom platform and would also be live telecast on YouTube
Learn more about Chai & Why? here
Following are the links to join the chai and why ? session.
Invite all your friends, colleagues and others to take part in this live session as well.
YouTube link: https://youtu.be/lqUTobuDgvs
FaceBook link: https://fb.me/e/OGfAsXM3
EVENT DATE: 29th August 2021
TIME: 11am to 12.15pm
Link to Chai and Why YT Channel
Thanks😊