Hello there!
How is everyone amidst the COVID-19 scare! ?



And now, the lockdown too has shut the doors for everyone!
Now on 16th March 2020, our college declared a two-week holiday as a precautionary measure for the Virus Outbreak.
So, we shifted all our College Cultures to CUBE HBCSE, Mumbai having a thought that at least here we could look after the cultures!
But then on 18th March 2020, the Government of India announced the abandonment of the rail services in a couple of days which now meant that we could not travel to CUBE HBCSE as well!
So, we decided to take a few bottles at home and maintain them there and the rest cultures would be fed by @G_N Sir.
So, on 19th March 2020, we came to take our cultures.
But we (I, @yash_sheregare, @Shivamkumar_Sriwas) didn't know that we have a surprise waiting for us!
The surprise CUBE Room Webinar was revealed to us by @KiranyadavR Ma'am!
So finally, after all of this bak bak of mine, you should ask, What is CUBE Room Webinar?
So, in the GLabat HBCSE, after all of the day's work, we have a informal group discussion or Causerie wherein we discuss the work which was done in the day, past days, the Objectives, the Research Question, and the designs of the experiments which would be carried out in the future and many more related topics are put forward and discussed, questions are asked, doubts are cleared.
But now in the Virus Season, everyone would be in their respective homes so how will the Causerie happen?
It will happen with the help of technology!
@G_N Sir along with the Maker's Space faculty have come forward with an online platform where Discussions can happen and are happening through Audio and Video Conferences!
It is free for all, anyone from any corner of the world (with a good internet connection

) can join us!
So, it has been a week since we started it at 3pm everyday.
It has been a very good experience overall!!
Looking forward to discussing more topics with the help of this!
Please Contribute to this, people!!
@Arunan @Lydia @saida786110 @baviskarritik @Vaibhavib99 @Zahra_R17
Take care and stay safe at your homes please!
The temporary link of the CUBE Room Webinar: BigBlueButton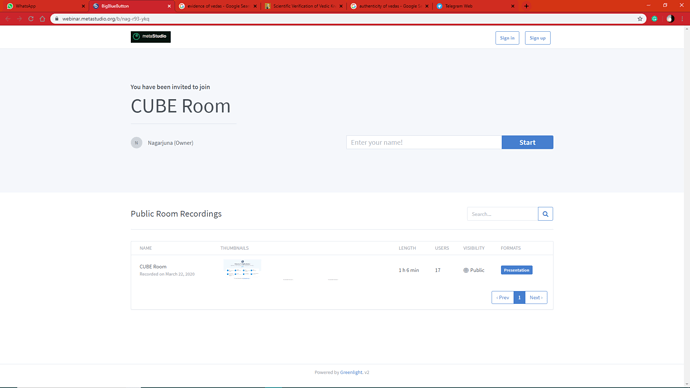 The website interface!
Updates of the elapsed days would be done in the posts following this one.