Hello everyone!!!
This is a pleasure to announce that we will be exploring "NetLogo", a multi-agent programmable modelling environment, from the upcoming week.
NetLogo is a multi-agent programmable modelling environment. It is used by many hundreds of thousands of students, teachers, and researchers worldwide. It is authored by Uri Wilensky and developed at the CCL. You can download it free of charge. You can also try it online through NetLogo Web. (Souce: https://ccl.northwestern.edu/netlogo/)
The computational interface enables us to explore interesting questions such as the following,
How creatures can aggregate into clusters without the control of a "leader" or "pacemaker" cell? For example, "slime mold cells were organizing themselves without the need of a leader" - is this statement true?

What is osmotic pressure? How to illustrate the colligative nature of osmotic pressure?

What governs the movement of gases in a closed chamber? How to obtain the different properties (like average speed or average energy etc.) from the initial data we have?

Suppose we divide a stick in three. Then replace the middle one with two sticks so that the old one and two new ones form an equilateral triangle. Now we have 4 sticks. Do the same for these 4 sticks. Continue the process. What will you get at the end?
We will attempt to explore the phenomena and concepts from the empirical data generated by the interface without using any formulae or experiments. NetLogo has a rich library of many such simulations to answer these kinds of questions and we will explore new aspects of those during our weekly discussions.
To have an idea about the sessions you can look at the following example: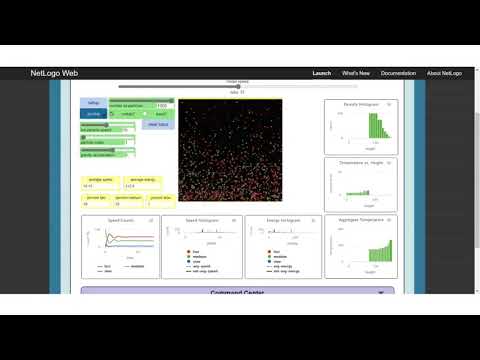 The sessions will be conversational where everyone can participate and share their thoughts without hesitation. To get an idea of the conversation, do check out the recorded videos related to physics and chemistry-related simulations session earlier along with their schedule. Here is the invitational post link. Click Here
Sounds interesting? Please fill in the expression of interest (EOI) here
Here are the details,
Meeting Link: Here

Time: Every Tuesday | 3:00 pm - 4:00 pm (* starting from 17th Aug 2021)

Kindly note, the sessions will be recorded and will be released as an Open Educational Resource.