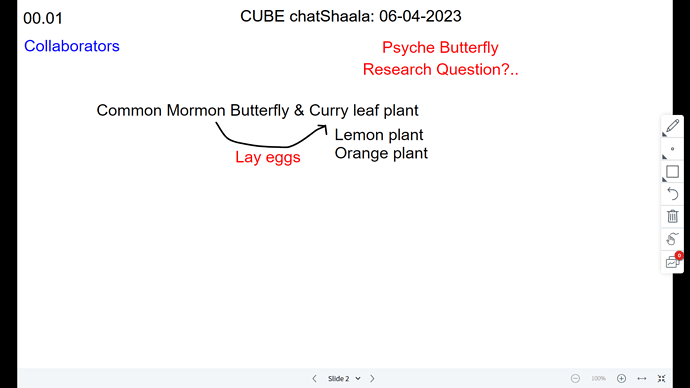 Today's discussion started with …We are facing data storage issues, how to overcome or archive our datas?
Here is option to archives our date…Metastudio https://metastudio.org/
How ISEB Conference trigger shraddha to make a CUBE Garden lab!!
While preparing poster for ISEB conference 2023 she collected the datas from her surrounding now those place is establish as CUBE garden lab Panvel .
How Psyche butterfly different from Common mormon!?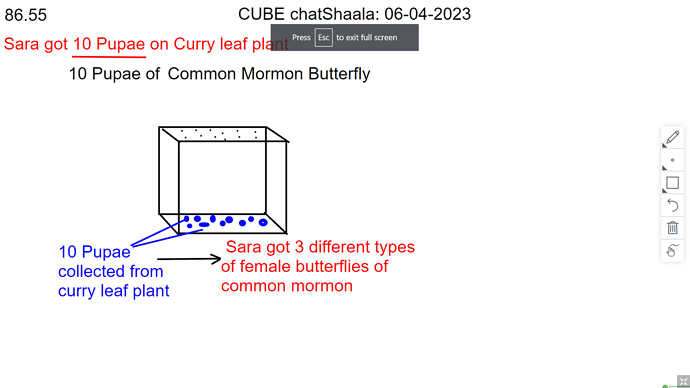 Sara from CUBE SN college Varkala had very intersting study on Common mormone butterfly .
She collected 10 caterpillars from Curry leaf plant and found 3 different forms of Common mormon female that is Cyrus ,Stichius,Romulus .
Common mormon female butterfly mimicking Common rose and crimson red butterflies .
https://news.ncbs.res.in/archivednews/story/butterfly-man
Video from BUTTERFLY GROUP: NATIONAL MEET 2022
Congratulations Sara for your great work
While discussing Atharva had a very intersting question is that "Why do they mimick some particular butterfly "!
How Sara managed to culture those 10 caterpillars !!
Used box with holes, sugar-water solution.
References shared during CUBE Chatshaala( 6/4/23)
One gene for many butterfly disguises
Kunte One gene for many butterfly disguises
https://www.nature.com/articles/nindia.2014.29
Group photograph of participants of today's CUBE Chatshaala