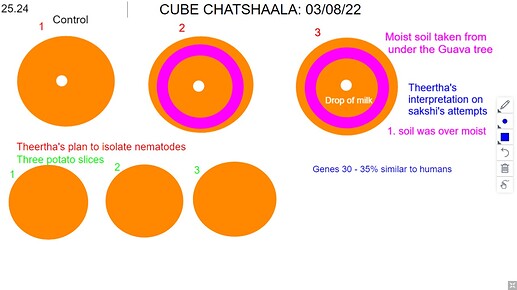 Today we had a wonderful discussion started with @Archita15 from NES Ratnam college. Students from her college were interested in different CUBE Model systems like Nematodes, Moina, hydra, and Phyllanthus, Fruit fly, etc. Then we focused on one of the model that is nematodes.
What is a nematode?
Nematodes are invertebrate roundworms that inhabit marine, freshwater, and terrestrial environments. They comprise the phylum Nematoda (or Nemata) which includes parasites of plants and of animals, including humans, as well as species that feed on bacteria, fungi, algae, and on other nematodes.
http://nemaplex.ucdavis.edu/General/Intronem.htm
So @sakshiconsultant2002 explained about her nematode isolation setup, which sakshi did in her Homelab Bhandup.
@sakshiconsultant2002 made the experimental setup 3 times for culturing Nematodes ,but she didn't get the nematodes

.
Then we were discussing about her goof ups!
Like not placing soil properly and making clay out of it and not covering the set up (flies lay eggs on it)
Later we come across the plain Agar plate used by @Anshu_kadam_2813 and @Bunny for isolating nematodes in their college lab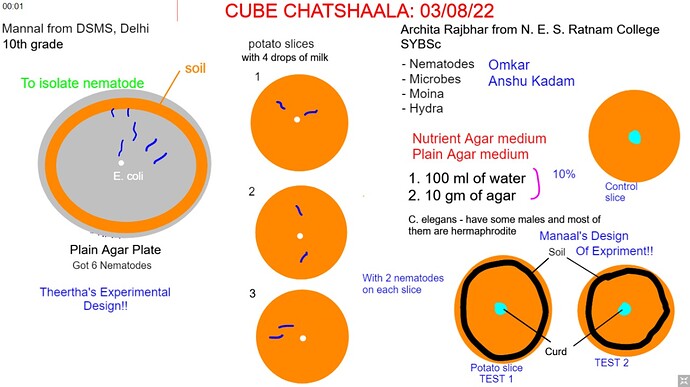 For making agar plate, we can take agar powder, add it to boiling water and stir for a minute.
Then @Theertha made a design where she will use 10g of agar powder in 100 ml of water (i.e 10% of agar silution).
But then we came to know that 2% agar is enough for making plain agar media as sakshi explained.
Can we use potato slices in place of agar?
Yes, many CUBist have been successfully doing this like @magpie and @KiranyadavR
Then we are try to interpret Sakshi's experiment!!
Then we had A student, Manaal Siddique from DSMS school, Delhi Also made a curious question that "Can we do this experiment in home lab?"
Later Manaal made a experimental setup for isolating nematodes from her home lab!
Here's a short summary by Manaal Siddique (10th grade student) from DSMS, Delhi
Today's discussion was about nematodes and how to isolate them. Sakshi, a cubist shared her experience and Teertha another cubist shared her interpretation on the same. Preparing an experimental setup of two potato pieces with slightly moist soil on the circumference and curd in the middle, I will be trying to isolate nematodes at my home lab.