Is it not wonderful that we can isolate nematodes from soil samples at Home? This is one of the innovations that we made during lockdown. To achieve this method we first went through the understanding of our standard lab based method of isolation of soil nematodes and particularly finding of C. elegans from India.
These are the some of the pictures from CUBE HBCSE Lab
This is the standard lab based (specific amount of media and a known feed) method of isolation of soil nematodes where soil is placed at the circumference of extraction plate:2%Agar and E.coli culture at the center of the plate to attract nematodes from soil to the center so that you can track the movement of nematodes and take them out from this plate.
Can you think of any alternative to the agar medium and E.coli culture so that we can do the same at home? I encourage you to follow this.
​"Whatever things are used, try to break it down to what is its function and can it be replaced by things available at home".
These are some of the nematodes found on the plate from the soil sample.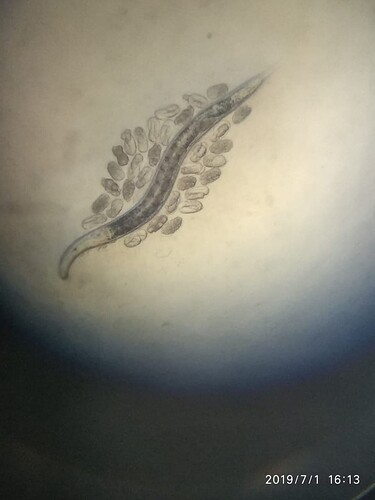 Close up pic of Nematode with its eggs.